Products and Repair
Partitioning Screens,Folding Screens,Reed Sliding Doors
We make partitioning screens, folding screens, and sliding doors inlaid with bamboo or reed screens. These are primarily used in summer. In Tokyo, it is common for the reeds to be inserted horizontally, but Kyoto makers such as ourselves insert the reeds vertically. Partitioning screens and folding screens not only provide privacy, but also add a wonderful interior design element to any space.※Please contact us with information about desired dimensions, design, etc.
Partitioning Screens
Small Partitioning Screen 94,000 yen
Materials: Wooden frame, cattail reed
W (including stands) 830 mm × L 925 mm
Folding Screen
2-Panel Folding Screen 275,000 yen
Materials: Redwood frame, reed
W 879 mm × H 1,636 mm
Reed Sliding Door
Standard Reed Sliding Door 203,500 yen
Materials: Redwood frame, reed
Woven Rattan Mat,Straight Rattan Mat,Rush Rope Curtain
Rattan is a member of the palm family and grows naturally the tropical forests of Indonesia and Vietnam. A completely natural material, it is remarkably durable and works in both Western and Japanese interior designs. Rattan is hollow and does not absorb heat, so it feels pleasantly cool to the touch in hot summer months. Rush rope curtains are perfect for doorways people frequently enter and exit through and for places where you want to create extra privacy. The ropes are held together by bamboo at the top.※ We make these products according to customer size specifications.
Woven Rattan Mat
2mm Width 184,000 yen (per 1 jō size [approx. 1.82 sqm])
2.5mm Width 92,400 yen (per 1 jō size [approx. 1.82 sqm])
Straight Rattan Mat
24,642 yen (per 1 sqm)
Rush Rope Curtain
(Cost for Reference) 35,420 yen
Width 900mm Height 1,500mm
Regarding Repairs

Our blinds are not meant to last forever. Outdoor blinds can be used for five to ten years, and indoor blinds can be used for over thirty years. It is possible to replace frayed or damaged textile edges on indoor blinds and misu. Hardware for hanging the blinds can also be replaced. For questions about other kinds of repairs, please contact us.
※ Certain repairs may not be possible.
Repair Price (indoor blinds, for reference)

Textile Edge Replacement
14,300 yen (mixed weave textile)
18,700 yen (pure silk or pure hemp textile)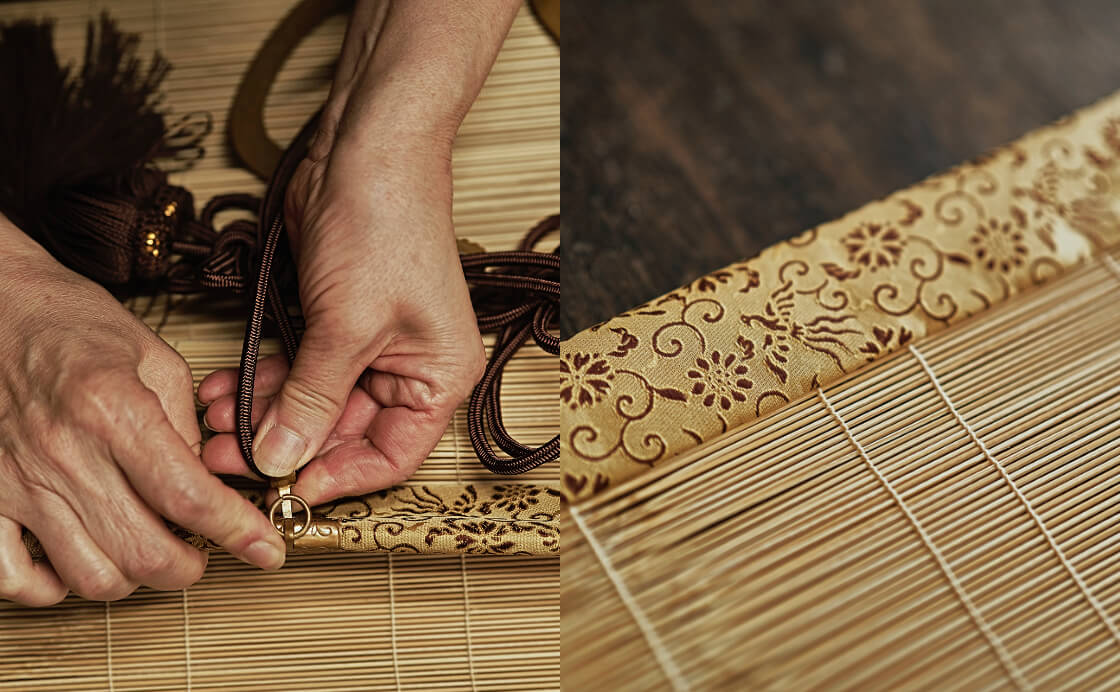 Contact Us
We are happy to consult with you online.
Please reach using the form below.